Fifth-Annual List Reveals Leading MSPsIn Healthcare, Legal, Government, Financial Services, Manufacturing & More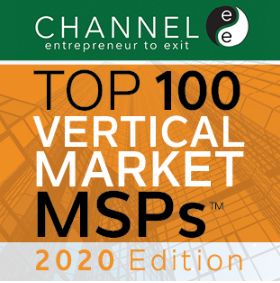 April 30th, Sterling Heights, MI: Center for Computer Resources, CCR, has been named to After Nines Inc.'s ChannelE2E Top 100 Vertical Market MSPs list and research for 2020. The annual list identifies and honors the top 100 managed services providers (MSPs) in healthcare, legal, government, financial services, manufacturing and additional vertical markets.
The Top 100 Vertical Market MSPs rankings are based on ChannelE2E's Q4 2019 and January 2020 readership survey, and ChannelE2E's vertical market industry coverage. MSPs featured throughout the list and research leverage deep vertical market expertise to drive annual recurring revenues (ARR) in specific market segments.
CCR was ranked among the top vertical market MSPs in the Healthcare vertical. CCR has appeared twice on this list in 2016 and 2017.
"Our CCR team continues to break barriers when it comes to providing our clients with high-quality services," said Curtis Hicks II, President & CEO of CCR. "We are determined to provide technology solutions tailored to fit each of our client's unique IT needs."
"After Nines Inc. congratulates Center for Computer Resources on this honor," said Amy Katz, CEO of After Nines Inc. "Vertical market MSPs are uniquely positioned to assist their customers with automation, cybersecurity, e-commerce and business recovery services during this challenging time for the global economy."
Center for Computer Resources
Center for Computer Resources, CCR, was founded in 1981 with the purpose of helping small businesses in Southeastern, Michigan with their IT servicing. Since then, CCR has grown nationally and internationally to help companies get the most of their business technology. With over three decades in the business, CCR has extensive experience in transitioning clients from outdated systems to current technologies, as well as maintaining current systems. For the past 35 years, CCR has grown to become a premier IT Services Company dedicated to serving small and medium-sized businesses. For more information, visit www.ccr1.com
About After Nines Inc.
After Nines Inc. provides timeless IT guidance for strategic partners and IT security professionals across ChannelE2E (www.ChannelE2E.com) and MSSP Alert (www.MSSPAlert.com). ChannelE2E tracks every stage of the IT service provider journey — from entrepreneur to exit. MSSP Alert is the global voice for Managed Security Services Providers (MSSPs).