The holidays are right around the corner and it seems like every store is running a special. You're constantly receiving emails with enticing deals from your favorite retail store. It's also the time of giving, and donating, to those who are less fortunate.
The holiday shopping season is also known for another reason, scams. Holiday scams are becoming more common, and the scam artists are getting smarter every year. They disguise everything from fake shipping notifications to made-up charities asking for donations.
What should you be on the lookout for? Here are some common holiday scams:
1.Fake Shipping Notifications: This is a common scam that happens often, even when it's not the holiday season.
You will receive an email from UPS or USPS saying that your package has shipped or is being delivered. The link, or document, attached to that email also contains a virus that will be downloaded onto your computer.
Advice: If you're not expecting a package, don't open the email or click any links.
2.Fake Charities: During the holidays, people want to give back and help those in need.
Scammers jump at the opportunity to trick people into thinking they are helping give back, but they are just trying to steal your confidential information.
Advice: Verify charities before contributing to a charity. Registered charities can be found at: Give.org
3.Fake Calls for Payment: Usually scam callers are aiming to reach the elderly to convince them that it's a family member who is calling in need of money.
The scam artists haven't stopped there. They've gone as far as pretending to be someone from the local government, giving you a final notice that your electricity is going to be shut off if you don't make a payment immediately.
Advice: Firstly, if you don't recognize the number, don't answer. Secondly, if you do answer, never give them any confidential information over the phone.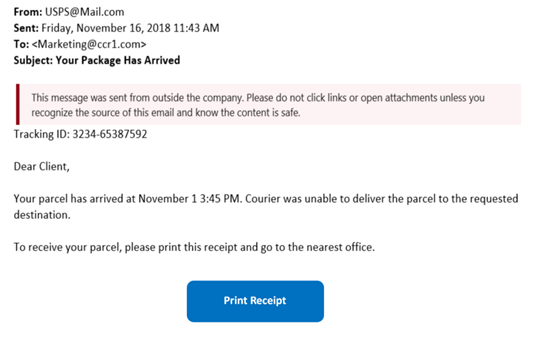 Scam artists are becoming smarter, quicker and more convincing. Remember, don't believe everything you see on the internet. Be safe this holiday shopping season!
Marina Petz, Marketing & Social Media Coordinator
Center for Computer Resources
Source: https://www.bbb.org/avoidscams/